Founding

UFF began in 1976, when faculty across the State University System voted for the United Faculty of Florida to be its exclusive collective bargaining agent .  Over the next twenty-five years, UFF proceeded to negotiate a series of statewide contracts with the Board of Regents.  During that time, UFF also played an active role lobbying the state legislature and promoting the interests of faculty in the public arena.
UFF and the Supreme Court

In the late 1990s, UFF provided key support for the plaintiffs in Kimel et al. v. Florida Board of Regents, in which FSU faculty members charged that salary compression effectively constituted age discrimination; this case ultimately was decided by the U.S. Supreme Court.  Although the Court decided 5-4 against UFF, the case demonstrated that faculty working together can have a far stronger voice than they do alone.
A New Millennium, A New Fight

In 2000, the Florida Legislature mandated a restructuring of higher education in Florida, which led Governor Bush to dissolve the Board of Regents. By 2003, governance had been devolved to Boards of Trustees at each of the eleven state universities, and FSU's Board of Trustees refused to recognize UFF.  Although a court later ruled that UFF's status should not have been impacted by devolution, by then UFF had already responded by launching recertification campaigns at each of the State University System's campuses.
Hands Off Our Union

In October 2003, the faculty at FSU reaffirmed its desire to be represented by UFF by a vote of 736 to 33.  At the FSU School, which is a separate bargaining unit with a separate Collective Bargaining Agreement, the vote was 80 to 0.  Although the recertification campaign was burdensome for UFF-FSU's volunteer leadership and members, it had the unintended impact of leading to a new era of activism, as faculty recognized that they needed to be organized and vigilant in order to resist pressures that would impact working conditions and contractual rights at FSU.
Continuing Activism

In the years that followed, UFF took a leading role in protecting academic freedom, opposing the so-called Academic Bill of Rights and protesting prohibitions on faculty conducting research in "terrorist nations."  UFF-FSU made its mark at the bargaining table, making FSU the first institution in the state to grant paid parental leave benefits.  UFF-FSU was also heard in the public arena: In 2009, it organized the largest higher-education rally in the state, with more than 1,000 faculty, students, and supporters in attendance.
UFF Rallies

In 2009-2010, UFF-FSU protested vigorously when the FSU Administration violated the Collective Bargaining Agreement in its announced plan to lay off scores of faculty members.  With assistance from its statewide affiliate and outside legal counsel, UFF-FSU filed a grievance which culminated when the arbitrator ruled that the layoffs were "arbitrary and capricious" and reinstated laid-off UFF members.  This led to the immediate reinstatement of 21 tenured faculty.
Another Government Attack

Union mobilization at FSU received another spike in 2011, when Governor Scott and his allies in the legislature proposed a series of bills designed to limit the ability of public employees to collectively bargain their contracts.  Together with the passage of a bill that severely restricted tenure among K-12 teachers and with the introduction of a bill that would eliminate tenure at community colleges, these legislative initiatives further alerted FSU faculty that they needed UFF.
UFF Today

Today, UFF-FSU is in a stronger position than ever for meeting the challenges that are sure to arise as the state legislature tries to balance its budget on the backs of state employees and as university administrators attempt to achieve more with limited faculty labor.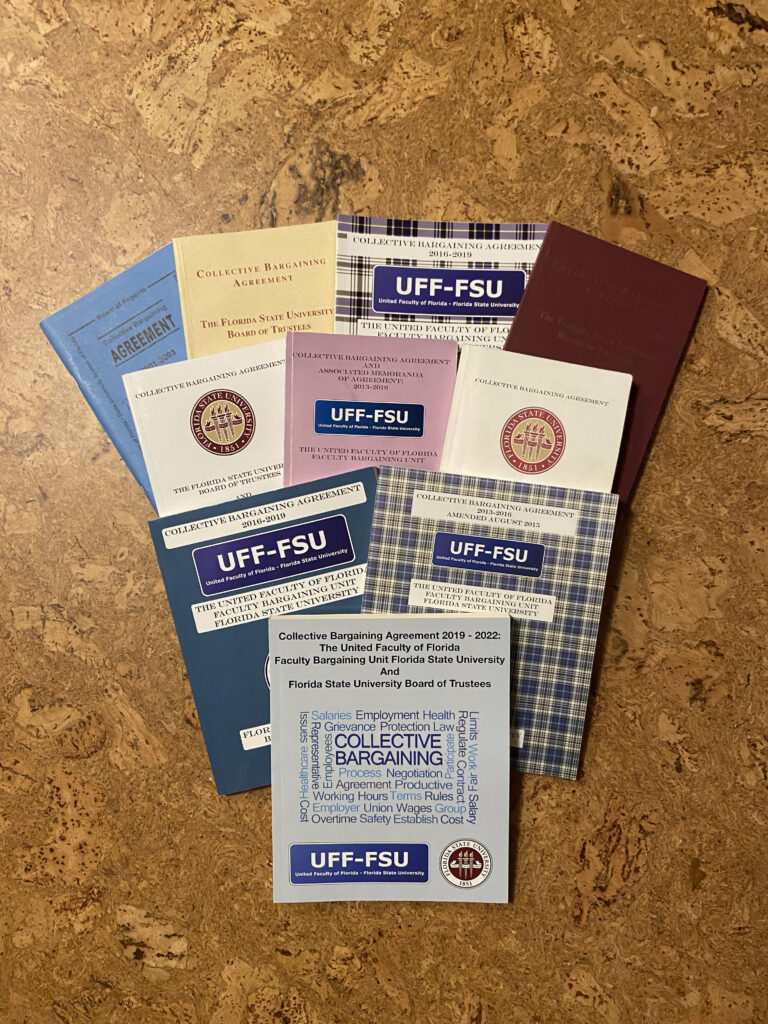 Additional Resources
For more information about the history of UFF, read the following articles:
Fendrich, James M. "Unions Help Faculty Who Help Themselves: A Partisan View of a Collective Bargaining Campaign." The American Sociologist 12, no. 4 (1977): 162-75. Accessed October 13, 2020. http://www.jstor.org/stable/27702295.
Nissen, Bruce, and Candi Churchill. "Unionism in a Right-to-Work Environment: United Faculty of Florida from Stagnation to Crisis Mobilization to Power Building." Labor Studies Journal, (March 2020). https://doi.org/10.1177/0160449X20911710.