The UFF-FSU Bargaining Unit is the group governed by the Collective Bargaining Agreement. It's generally around 1700 people, though the exact number fluctuates each year. Our Bargaining Unit is made up of a wide array of faculty, including teachers, researchers, librarians, and even some department chairs.
What About Tenure?
Both tenure-track and specialized faculty are eligible for the bargaining unit. In fact, specialized faculty make up about 40% of the bargaining unit and about 25% of our dues-paying members.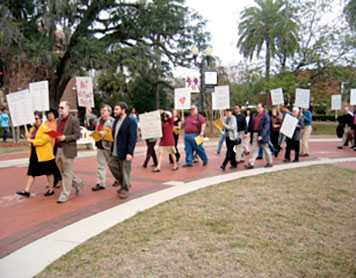 FSU School Faculty
Faculty from the FSU School are also part of our chapter, but with a caveat. They are governed by their own Collective Bargaining Agreement.
Retired Members
Leaving FSU doesn't have to mean the end of your UFF membership. Many faculty members decide to join UFF as retired members in order to stay connected to the union that has worked so hard for their benefit. Retired membership involves a one-time $450 fee. Retired members can participate in the UFF Senate and continue to play a role in shaping UFF's actions.